Dart Raffe Farm History
The photo below shows farming at Dart Raffe in the 1920s, with a hayrick being made with a horse drawn hay-sweep. There are some old farm tools and small machinery on display in the old barn.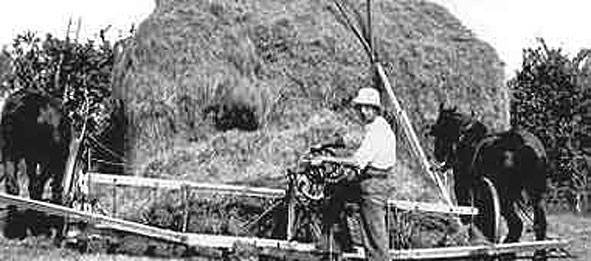 There was a Domesday manor on this site which was called Derta or Derte. After the Norman invasion in 1066, it was given by William the Conqueror to a French lord called William de Poilley. (He may not have been Norman – the name comes from Burgundy, where they were Lords of the Castle of Pouilly sur Saone). His tenant was called Ralph, after whom the farm was named – Ralph de Derte became over time Dart Raffe.
The farmhouse has had a somewhat chequered history – it was at one time used as a monastery. It is thought to have been defended by the Royalists in the Civil War, but was defeated by the Parliamentarians, who went on to sack the castle at Worlington. Cannon balls have been found near the house.
The oldest barn is built of cob and stone with very old 'A' frame roof timbers, and is around 500 years old. It was once a tithe barn, where grain was stored for the benefit of the Church. Tithe barns were used in feudal England to store the produce paid as a tax to the parish priest by the local occupants of the land. In the Middle Ages, monasteries often controlled the collection of tithes over a wide area and, as a result, constructed sizeable tithe barns.
There have been more dramatic events in the last hundred years: there was a serious fire in 1935, when the thatched roof was destroyed and the house gutted, and in 2001 the animals on the farm were all culled when foot and mouth disease reached the neighbouring farm.